‹ Tips & Guides home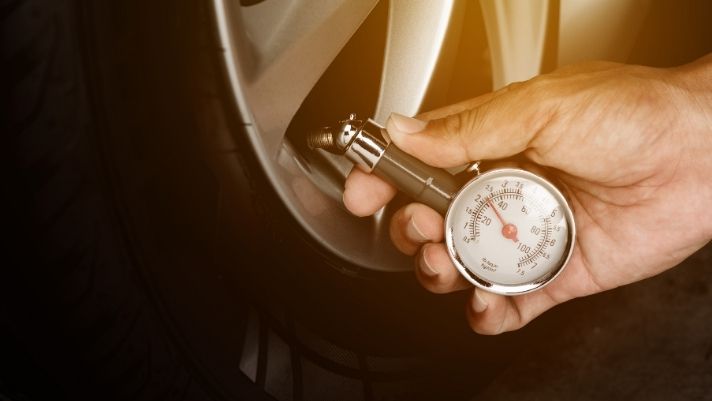 Your tire's PSI, or pounds of pressure per square inch, is the measurement of how much air is in them at a given time. The correct PSI is crucial to helping vehicle tires maintain traction with the road and lengthen overall product lifespan. Therefore, as a car owner yourself, it's essential that you're able to pinpoint the desired PSI for your own tires and put in the effort to sustain these levels. This is how to find the correct PSI for your tires and check this value regularly.
Check Tire Manufacturer Guidelines
Firstly, make sure you become familiar with the listed specifications for your tires. Each product comes with a set of manufacturer guidelines for you to follow. This guide often includes the appropriate PSI measurement and a range that you should try to stay within. Taking note of this number for each individual tire will let you know exactly what value you're aiming for during maintenance.
Use a Tire Pressure Gauge
The next step for finding the correct PSI for your tires is to use a tire pressure gauge to measure the current PSI of each equipped model. These devices are designed to accurately depict a tire's PSI by responding to the amount of force exhibited when trying to push some air out. This allows you to tell exactly how much air is currently in the tire and whether you'll need to add more. To operate a tire pressure gauge, simply press the nozzle to the uncapped air valves and record the number that it indicates. You may need to take this measurement a few times to get a more accurate picture.
Fill To the Required PSI and Record Specifications
Once you know where your tires currently sit on the PSI scale, fill them with air until they meet the correct value. This might require you to repeatedly use the pressure gauge and track how much the PSI increases with each burst of air. After this, take some time to record each tire's specifications, including the PSI listed in the manufacturer guidelines and what level you filled each tire to. This will allow you to see how much the pressure drops between checks. However, no matter how hard you work to keep your car's tires at their designated PSI, they eventually will no longer maintain that air capacity. When this happens, it's vital that you get replacement products before any serious issues develop. This is why our team at RNR Tire Express works hard to ensure each of our customers leaves with quality tires and a clear knowledge of their specifications. Our Greenville, NC, tire shops are also staffed by a series of qualified professionals who can teach you how to monitor your tire PSI and make them last longer.