‹ Tips & Guides home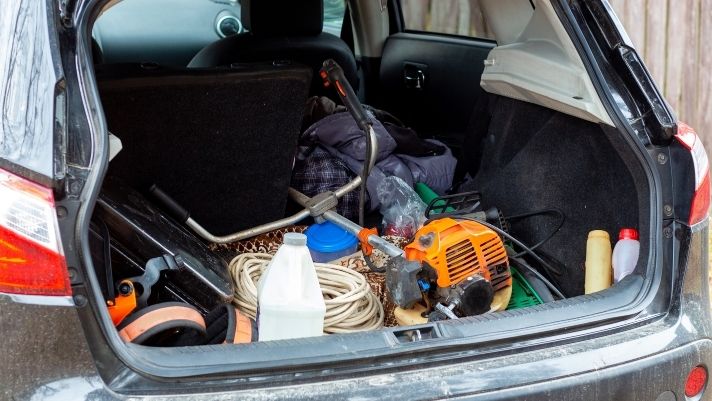 Our vehicle's trunk space is crucial to ensuring that, no matter where we go, we always have what we need. However, these areas can fill up quickly and it's only through proper organization that we can get the most of this limited room. So, read this guide on how to organize your car's trunk to maximize the amount of storage you have and, ultimately, get the optimal usage out of it.
Take Everything Out and Declutter
When taking on the process of reorganizing your vehicle's trunk, the first thing to do is take everything out and assess what you have. Too often, drivers keep so many things in their trunk that it houses more clutter than functional items. Therefore, weeding out some of these extra objects is crucial to maintaining a practical amount of room. Once you establish what to keep and what to bring back into the house, you'll have a more manageable load to organize.
Assemble an Emergency Kit
The next step in organizing your car's trunk space is to establish a spot for your emergency kit. Emergency kits include everything from first-aid supplies to extra blankets, umbrellas, and jump starter cables—anything that could be of use in a crisis. They should be packed together, often in one larger container, to guarantee all your essentials stay in one place. This is one of the most important things you'll be keeping in your trunk, and, as such, it must remain accessible at all times.
Utilize Boxes and Bags
For the rest of your belongings, it's recommended that you use a specialized trunk organizer or individual boxes and bags to keep things compact. This protects these items from sustaining damage during the ride as well as maintains their location within the trunk itself. No longer will you have to rummage through things to find what you're looking for. Instead, all you need to do is find the right container.
Install a Mesh Net for Additional Storage
Stretchable mesh netting is also a useful tool for those who need a little extra storage. These solutions expand to accommodate even larger objects and keep them contained in a certain area of the trunk. They're great for any loose items you have such as clothing or an extra pair of shoes. RNR Tire Express is the place to go for assistance in maintaining your vehicle—specifically their tires. Our tire stores in Gastonia, NC are stocked with high-quality and affordable tires for you to choose from. So, whether you need full replacements, or a new spare to keep in the trunk, we've got you covered.