‹ Tips & Guides home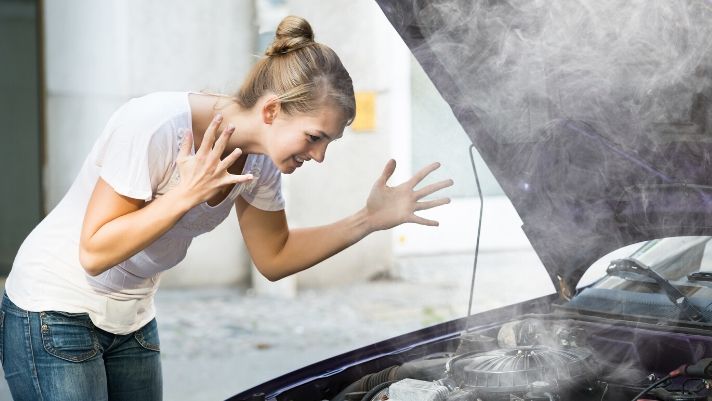 There are few things worse than your car breaking down on the side of the road. Most of us have been there at some point or another in our lives, and it's awful. You don't have to be on a NASCAR pit crew to know when something is wrong with your car either. You drive it day after day and get to know it well, so when something starts to go sideways, your gut tells you it's about to go down. If you lack those instincts, don't worry; we have some signs that will clue you in to when you need to pull your car over.
Red and Blue Lights
If you see red-and-blue flashing lights on the road, pull over. Those lights are on top of an emergency vehicle of some kind, and they have the right of way. If an ambulance or firetruck is in the opposite lane coming your way, slowly pull to the side and let them pass. If you see those lights behind you, specifically directly behind you, pull over. That's the police and they want to talk to you—and probably not to tell you how sweet your ride is.
Bad Visibility
When visibility becomes limited, it's prudent to pull over and let it pass. A dense fog, heavy rainstorm, or snowstorm can limit your vision and reduce it to a few feet. Continuing to drive in those conditions is hazardous. Being able to only see a few feet in front of you increases the risk of accidents. Traffic can stop suddenly, and you won't have enough space to stop.
Where There's Smoke…
If you see smoke or fire coming from under the hood or under the car, stop immediately. Fire is only good for roasting marshmallows; it doesn't belong under your car. Something has gone horribly wrong if there's fire under the hood. Call for emergency help and hope they get there while there is something to salvage.
A Change in Handling
A sudden change in the handling of your vehicle usually means a flat tire. If your car starts pulling to one side or the other and you must hold the wheel to stay straight, pull over. Take a walk around the car to check all the tires and change one if need be. Don't be that dummy who drives on a flat tire and has other cars taking video of it and posting it online. If you get a flat, our wheels and tires in Greensboro, NC, can get you back on the road. We are a full-service tire shop with tires for all makes and models.