‹ Tips & Guides home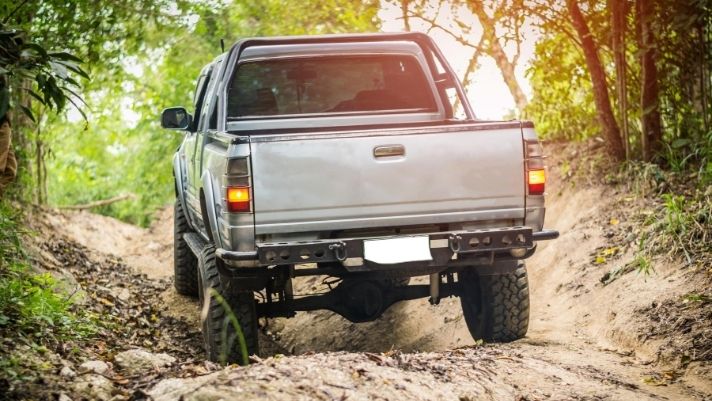 Four-wheel drive is arguably the greatest invention of the 20th century. Where would the world be without it? The invention of the four-wheel drivetrain gave us powerful trucks to do difficult work, build America, and recreate in. To find the glory that is four-wheel drive, all one needs to do is look at the granddaddy: Bigfoot. The first monster truck and the shining beacon of hope to budding off-roaders all over the Southeast, Bigfoot showed the world that big trucks were not only cool but also useful. Now there was a sweet way to crush old cars. If you need any more reason to want a 4×4 truck, here are the advantages of four-wheel drive.
Bigger Towing Capacity
Now there is a way to tow your ATVs, motorcycles, and cooler to the fields for a day of fun. Four-wheel drive trucks have a huge towing capacity and can move a lot of weight. Big farm trucks with four-wheel drive can pull horses to a show, cattle to market, or parts to a swap meet.
Increased Traction
The biggest advantage of four-wheel drive is increased traction. When only two wheels have power, you run the risk of getting stuck. Whether in the front or back, when two wheels start spinning and can't get any traction, your car will almost definitely get stuck. Four wheels mean you'll never get stuck again, which is especially important in bad weather such as snow, ice, rain, and mud. Increased traction will keep you on the road no matter what.
More Weight = More Grip
Having two drive trains and transfer boxes under a truck means added weight. That extra weight presses down on the truck and gives the tires extra grip. Granted, it's not a lot, but every little bit helps. It's the same reason people in the north put sandbags in the back of their trucks during winter—the extra weight helps the truck handle better in the ice and snow.
Great for Off-Roading
Is there any other advantage or reason needed? All the previous reasons combined make it so you can yank the wheel hard to the left and drive off right off the road, and that's what it's all about. Four-wheel drive lets you crawl over rocks, up steep inclines, through deep mud bogs, and wherever else you want to go. Try doing that with a front-wheel drive hybrid and see how it goes. RNR Tire Express is the only place for wheels and tires in Greensboro, NC. Bring your 4×4 in, and let us take your vehicle to the next level.