‹ Tips & Guides home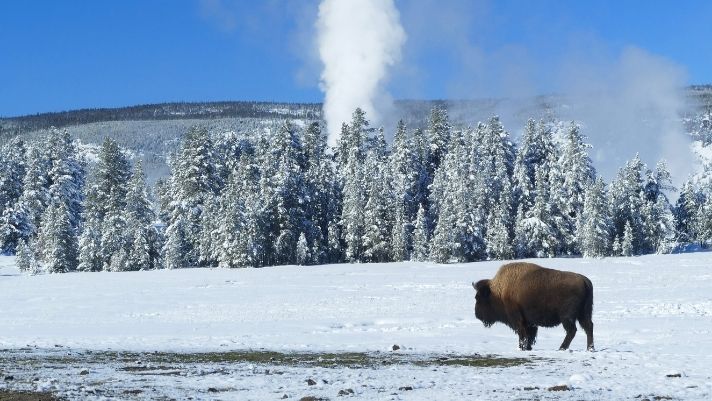 Though winter is traditionally a time to stay indoors, it still offers plenty of unique activities that you can't participate in at any other time of the year. For this reason, travelers from around the country choose to brave the cold and set out on an adventure they won't soon forget. These are some of the best places in the US to visit in winter and why they should each have a spot on your road trip checklist.
YELLOWSTONE NATIONAL PARK
Yellowstone National Park in Wyoming is known to be beautiful year-round, but the colder months make it especially breathtaking. This is due to the smaller crowds and the increased viewable wildlife population that occurs as a result. Starting in November, certain areas become only accessible by forms of snow transit, such as ski and snowmobile. As such, you have a greater chance of seeing the park's star residents, including bison, elk, and even a wolf or two.
COLORADO SKIING SLOPES
It's also worthwhile to plan a stop in Colorado. This state is home to a series of world-renowned ski slopes spanning several different towns. Telluride, Steamboat Springs, and Aspen Snowmass are a few of their most popular destinations. Best of all, they're located so close together that you don't have to pick just one mountain to conquer.
THE GRAND CANYON
Another of the best places in the US to visit in winter is the Grand Canyon. While this location is typically considered a summer haunt, it also makes a great winter location. The area around the southern rim is the most assessable during this time of year, as crowds are sparser. For this reason, wildlife tends to be more active, and it's easier to find accommodations nearby. Should you get lucky enough to see it snow on these ridges, you'll encounter something that's truly a sight to behold.
BLUE RIDGE MOUNTAINS
North Carolina's Blue Ridge Mountains are a must-visit as well. Though this region isn't known for heavy snowfall, it makes a great place to enjoy some cool-weather hiking and outdoor exploring. It offers plenty of scenic routes near waterfalls, hilltops, and meadows, and the Blue Ridge Parkway allows you to drive through the very heart of it all.
Traveling by car can be a lot of fun for the whole family, but not if your tires aren't up to the task. So, before you start your adventure this season, make sure you've equipped your vehicle with only the best winter models. At RNR Tire Express, we carry a wide range of tires for use during any time of year. Our inventory also includes several top-notch brands at reasonable prices. Stop by our tire stores in Fayetteville, NC, to learn more.