‹ Tips & Guides home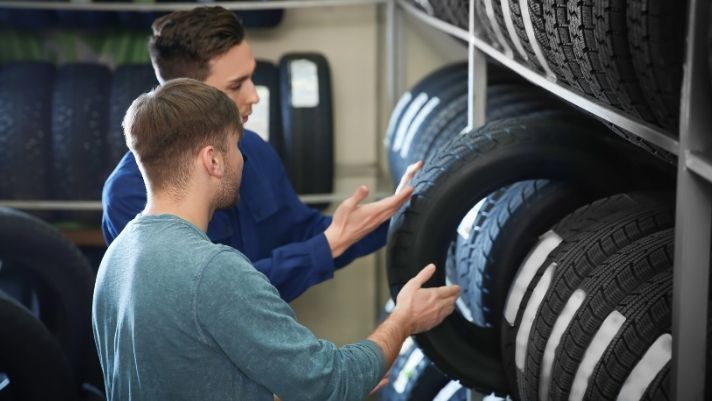 There are a lot of options available when it comes to buying just about anything. We are spoiled for choice in America where there are a dozen different varieties of everything. With so many choices, it can be hard to know what's the best value, what's overpriced, and what's poor quality. The same goes for tires on your car or truck. Tire manufacturers make tires for every make and model of car and truck on the road. Knowing what you should get for your vehicle doesn't have to be a daunting task. Use these tips for choosing the best tires for your car and get the best tires for your money.
Consider the Weather Conditions
Tires need to handle all kinds of different weather conditions. Think about where you'll be driving the car and what kind of weather will be around season to season. For people who live in cold climates with ice and snow for many months, snow tires are a necessity to get better traction. Summer tires are better suited for hot, dry areas and brake better than all-season in dry areas. A quality all-season tire is good for ideal weather conditions as well as most rainy conditions.
How Do You Drive the Car?
How aggressively or slowly you drive your car will determine what kind of tire you need. If you have a heavy foot and like to take corners fast, then look for tires with better handling or steering precision. They are called high-performance tires and come with higher speed ratings. If you take your time on the streets and just want to get there, then look for touring tires with a lower speed rating. Avoid aggressive and cool-looking tread patterns on the tire; they tend to make more noise on the road.
Think About the Roads
If you are going to drive in the city, then look for tires with the optimum braking distance on wet and dry roads. City driving is the hardest on a vehicle, and the brakes and tires get a workout. Check the rolling resistance of the tire and improve the fuel economy of the car. For rural driving on roads that might not be paved, you will want tires that provide better off-road traction and maximum durability. For the best tires and service, visit your local RNR Tire Express. We have options for every make and model of car on the road.