‹ Tips & Guides home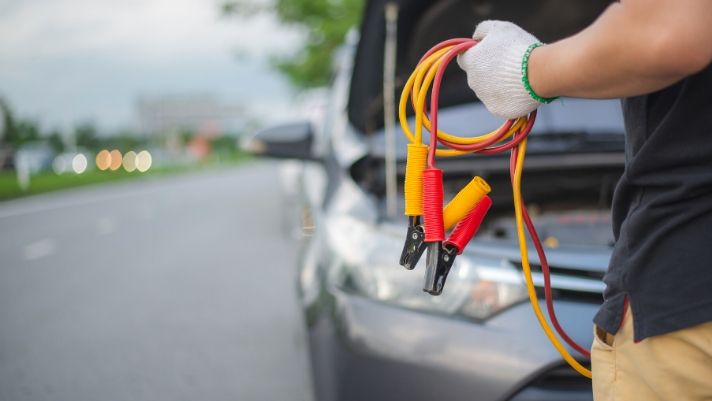 Some things in life you just need to have. Family, good friends, a roof over your head, and food on the table come to mind. Life isn't easy, but if a few basic needs are met, the rest will figure itself out. Likewise, you need to keep some things in your car. You should never leave the house without your wallet, keys, and cell phone; the rest you can keep in the trunk or glove box. Put them in a good spot and forget about them—when you need them, they're available. Here's what you should always have in your car so that you're always prepared for the unexpected.
Jumper Cables
Mark these down as number one. They're absolute must-haves; don't dare leave the driveway without these pieces of equipment for your car. It's bad enough to walk out of a restaurant, full from a great meal, to find you left the lights on and the battery is dead. Asking strangers if they can give you a jump is mildly embarrassing but asking if they also have jumper cables is worse. Don't be the guy wandering the parking lot and looking for someone to help.
A Spare Tire
Cars and trucks have come with spare tires for decades, but nowadays, some brand-new vehicles often don't come with spare tires. So, make sure that you actually have a spare tire and that it's inflated and usable. Make sure you have a jack and the associated tools, too. If you've never changed a tire, practice doing so in your driveway. It's easier to learn there than on the side of the road.
Emergency Roadside Kit
You should keep an emergency kit in your trunk right next to the spare tire and jack. You can buy a premade kit with flares, reflectors, and other necessities in it, but making your own is better. Tailor it to the climate you live in. If you live in an area with extreme cold, pack a blanket, gloves, and hand warmers. Put some water and a days' worth of rations in the kit, too, in case your vehicle becomes disabled and you get stuck.
A Small Tool Kit
A vehicle is a complex machine with many moving parts. Pack a small tool kit that you can use if you have trouble. Include standard and Phillips-head screwdrivers, a socket set, Allen wrenches, a pair of work gloves, and a headlamp. That lamp will be a lifesaver if you have to do emergency repairs on the side of the road at night.
Necessary Documents
Always keep your insurance card and registration in the glove box and your driver's license in your wallet. Hopefully, the police will never have to ask you for these, but you'll want to make sure they're there. It will save you so much hassle down the road. Impound yards won't let you reclaim your vehicle without that information. RNR's tire shop Augusta, GA, has all the latest products available. Come check out our lineup and trick out your ride.