‹ Tips & Guides home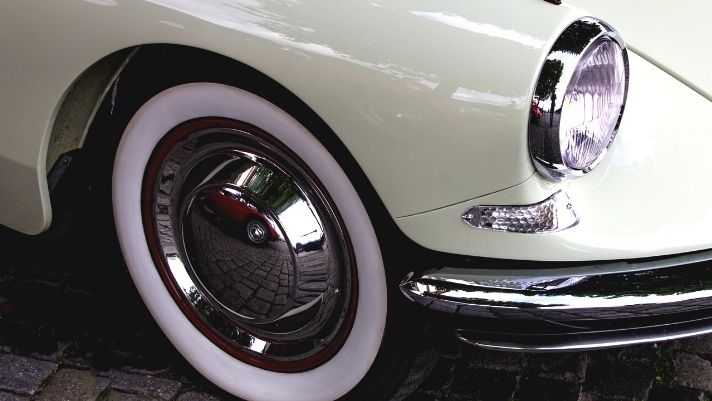 One of the most exciting parts of a classic car restoration project is to finally fit your vehicle with a new set of tires and hit the road. However, you can't purchase just any tires. In fact, using newer tires can even be damaging to the older car you've worked so hard on. These are the reasons why you can't put modern tires on a classic car and the dangers of doing so.
Compatibility
Every specific type of car is built using a wheel and bolt pattern. These arrangements dictate the maximum size that model's wheels can be and, therefore, the kind of tires the wheel can be fitted with. Because of this, only tires that match these specifications will properly form to a wheel. Classic cars are particularly known for having unique, or even unusual, wheel types. So, many newer tires just won't be compatible.
Performance
A classic car's performance can also suffer if you try to give it newer tires. Since they won't fit very well with the vehicle's wheel type, it's much easier for the tires to slip and cause resistance when steering. Not only is this an uncomfortable way to drive, but it can be incredibly dangerous should you lose control.
Wear and Tear
Another reason why you can't put modern tires on a classic car is because of the amount of stress that'll be placed on them. Many classic cars, especially sports cars, sit differently on their suspension systems to support their heightened performance. Certain tires aren't designed with those different points of pressure in mind. So, when you're driving with them on your car, you may experience extra signs of wear, and, as such, you'd need to replace them much more often.
Authenticity
Overall, using newer tires on old cars detracts from its authentic appearance. When we go to classic car shows, we want to see these vehicles restored to their manufactured state. For this reason, placing modern-looking tires on a traditional car is both out of place and disrespectful to the craftmanship. After all, if you're going to put in the work of restoring an old car, it might as well be a complete job. Restoring a classic car is a great experience when you have access to all the right parts. So, reach out to RNR Tire Express to ensure you have just the tires you need for your specific make and model. Our tire shops in Sumter, SC have a large collection of tires, both modern and classic, to choose from.