‹ Tips & Guides home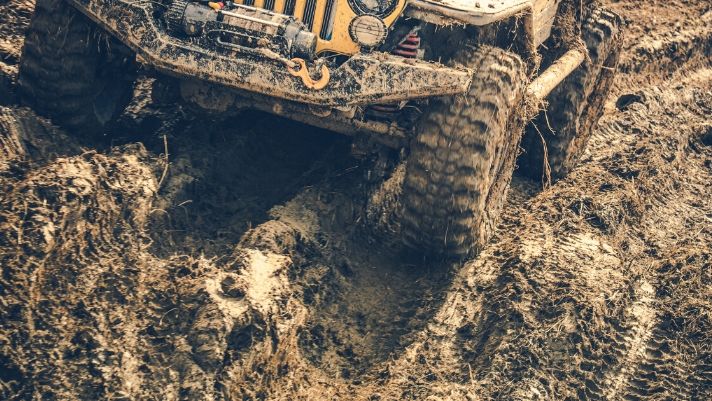 If you're going to delve into the world of off-roading, you need a vehicle that can get you there and back again without any issues. Unfortunately, not every truck a dealer tries to sell you can handle the harsh terrain. Before pouring money into a decent off-road vehicle, make sure you know what specs matter and why. To help you choose the best ride possible, here's our guide to what makes a good off-road vehicle.
Ground Clearance
Ground clearance keeps the bottom of your vehicle from scraping and catching on every bump in the road you come across. Make sure your vehicle leaves plenty of room to traverse ditches, rocks, stumps, and other obstacles without getting caught. Not only will this protect your vehicle's underbody, but it will also help keep you from getting stuck with your wheels in the air.
Clearance Angles
In addition to plain ground clearance, you also need big approach, breakover, and departure angles. The approach angle measures from your front tires to the lowest point on the front of the vehicle. Similarly, the departure angle is from the bottom of your back tire to the lowest point behind it. The breakover angle is the angle from the bottom of your front tires to where your rear tires meet the lowest point of the vehicle. These angles determine the steepest hills you can climb, descend, or breakover without hitting the bottom of your vehicle. The larger the angles, the better you can traverse harsh terrain.
Articulation
The more wheels you have on the road, the better your traction and control. High articulation allows your tires to move vertically in relation to the opposite wheel. This will help keep your tires on the ground over hills, dips, and other obstacles.
Ideal Tires
Tires are perhaps the most important part of what makes a good off-road vehicle. When you're roughing it on the trails, street tires simply aren't enough. You want larger tires with deep treads and tough sidewalls. Make sure you do your research to get the right tires for the terrain you'll traverse. If you're looking for tire stores in Fayetteville, NC, RNR Tire Express is the one for you. We'll get you fixed up with the right tires and the right maintenance to set you up for all your off-road adventures.