‹ Tips & Guides home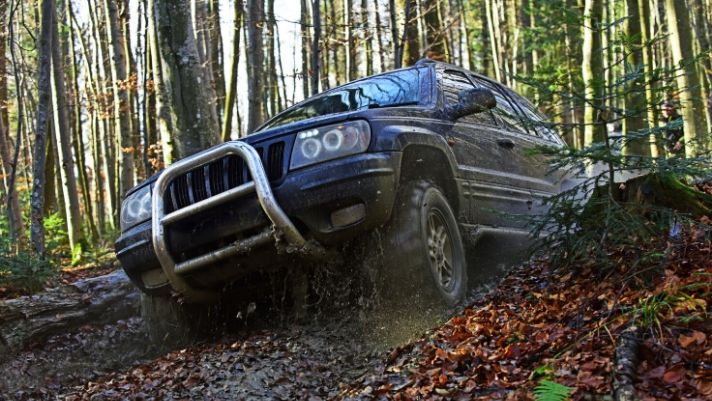 There is a lot to think about when buying a vehicle. You can't just say "I'm buying a car" and go about doing it. You must make a dozen decisions before you can even start researching what you want so you can get the best deal possible. Why are there so many choices to make when buying a car or truck? The possible combinations of packages, colors, and styles are infinite, even when deciding how many tires you want to move at once. To guide you through another decision, we discuss the differences between 2WD, 4WD, and AWD.
Two-Wheel Drive (2WD)
The main difference between 2WD, 4WD, and AWD is how many wheels are moving at once. Most passenger cars made today feature two-wheel drive, and some pickup trucks utilize 2WD as well. Two-wheel drive means that only the front or the rear wheels have power sent to them. That set of tires is actuated by the engine and transmission only. Car manufacturers are making the most of their models with front-wheel drive, as front-wheel drive is proven to be safer and easier to control than rear-wheel drive. Sports cars and trucks feature rear-wheel drive because it delivers more power and higher speeds to the vehicle than front-wheel drive. The weight of the engine and transmission is directly on top of the front wheels, providing better traction than rear-wheel drive.
Four-Wheel Drive (4WD)
Four-wheel drive is reserved for pickup and heavy-duty trucks. Power is delivered to all four wheels equally, making 4WD preferred for off-roading and pulling heavy loads. Four-wheel drive comes in either "part-time" or "automatic" options. Part-time means that the driver decides when to put the truck into four-wheel mode. Automatic four-wheel drive means that the truck is always in 4WD no matter what. Being in 4WD means better traction and stability while driving on uneven terrain or bad conditions. It also means burning more fuel to move all four wheels.
All-Wheel Drive (AWD)
All-wheel drive and four-wheel drive aren't the same thing, though they are close. These terms are often used interchangeably by people and advertising, but there are a few key differences. Four-wheel drive is for off-roading and rugged terrain, while all-wheel drive is more for sloppy or snowy road conditions. All-wheel drive is always on and the computer on the car will decide when to deliver power to different wheels. All wheels are capable of actuation at any time, but the timing depends on the condition. If one wheel begins to slip, the car will send more power to it in a corrective action. Extra traction and control are automatically applied without the driver knowing it. Come visit one of the best tire places in Savannah, GA today! Our team will be more than happy to assist you and meet all your tire changing needs.