‹ Tips & Guides home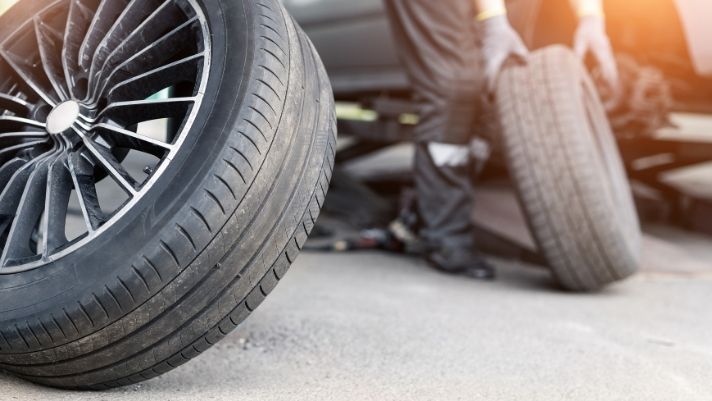 As vehicle owners, we're aware that having quality tires is crucial to a safe experience on the road. However, even with this knowledge, we rarely think to associate it with our spare tires. Though we often don't need them and, therefore, overlook them, our spare car tires can also decrease in usability over time. Checking them regularly and knowing what to look for is necessary to ensure you're ready in a crisis. Read this guide on how to know your spare tire is still good to better identify when it's safe to keep or when you need to replace it.
No Signs of Cracking or Significant Wear
When a spare tire begins losing its durability, one of the first things you'll notice is cracks forming along the rubber tread and casing. As time passes, these cracks deepen and cause a weakening in the material. Because of this, spares with this appearance—whether or not you've used them previously—simply aren't safe to drive on. Therefore, it's important that you're periodically inspecting them for this damage and only using them if they don't exhibit these markings.
You Haven't Passed the Manufacturer's Date
You'll also know whether your spare tire is still good by checking its manufacturer's date. Upon their creation, tires receive a brand with the date to help owners and sellers most accurately track how old they are. Once a tire reaches a certain point, it's too old to be completely safe, so you should replace it, regardless of whether you've used it in the past. As a general rule, tires are only reliable for about ten years after that manufacturing date. If you're still well within that timeframe and notice no issues with the tire, it's still fine to use.
Its Tire Pressure Is Normal
Your spare is still useable, as well, if it can maintain steady tire pressure. Though tires drop in pressure naturally over time, they'll lose even more if they've sustained damage. As such, if your spare constantly needs a refill, that's a clear indicator of declining quality. If its pressure is always well below what it should be, you might not want to take the chance of driving on it. But if you only need to add a little bit of air each time you check it, you have no reason to concern yourself about leaks. Should you notice that your spare tire is no longer safe for the road, don't take the risk of waiting to replace it. At RNR Tire Express, we carry a wide variety of quality tires in Anderson, SC—all from reputable brands. We can ensure that, even if you experience a flat, you'll still be fine for the rest of your trip.