‹ Tips & Guides home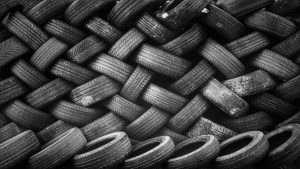 It's all about location and the intended job for a vehicle. Besides a good running engine, tires are one of the most important parts of a vehicle, never to be overlooked. Road tires are considerably different than off-road tires from the type of tread extending all the way to the design of the rims. Before selecting the optimal tire, look into tires and rims OKC businesses have to offer. When it comes to off-road tires, there are four main types for any off road element you might encounter.
All-Terrain Tires: All-terrain tires are good for multitaskers. They bode well for people who have to do a fair amount of driving on the road, but who also enjoy a weekend off meandering through the woods. Overall, they are more durable than simple road tire. The rubber is thicker and the tread deeper, allowing for more traction on an unlevel surface. They have reinforced sidewalls, but still allow the driver trendy choices in rims that disguise the all-terrain look for the times they cruise through the city streets.
Mud-Terrain: Mud-terrain tires follow in the foot steps of all-terrain, but are geared toward vehicles leaning more to off-road, adventurous surfaces. Made from durable rubber, they also have their sidewalls reinforced, which allows for more carrying capacity. The tread is more pronounced than all-terrain, giving the tire a better chance of gripping solid ground and rocks in muddy conditions. Rims can still be chosen, but it should be acknowledged they are likely to be hidden by mud.
Snow Tires: Snow tires are highly specialized wheels that are most useful to northern climates that deal with regular heavy snowfall and icy conditions. The tread is deep, but also may be reinforced with ceramic or metal studs. This tread allows for grippier traction in slick conditions. The rubber is also designed specifically to withstand colder temperatures and wetter conditions. Rims on these tires typically look the same as normal road tires.
Sand Tires: Sand tires are also called "paddle tires." Tread on other tires is described as "knobby" to provide traction, but sand tires are more scoop-like and larger in area than traditional tire tread gaps. This gives these tires the advantage in loose, sandy conditions because the paddles propel the vehicle forward while preventing sand from clogging the tread. Most often, these sand tires are used on smaller off-road devices. Rims, like with the mud tires, may not be as necessary as the tire is likely to endure tough elements.
When deciding what you need in a vehicle tire, it may be helpful to consult a tire shop to select the custom wheels and rims you want. It's okay to be picky. Finding the right tires could make or break your vehicle so take time in deciding which tires and rims OKC drivers trust.