‹ Tips & Guides home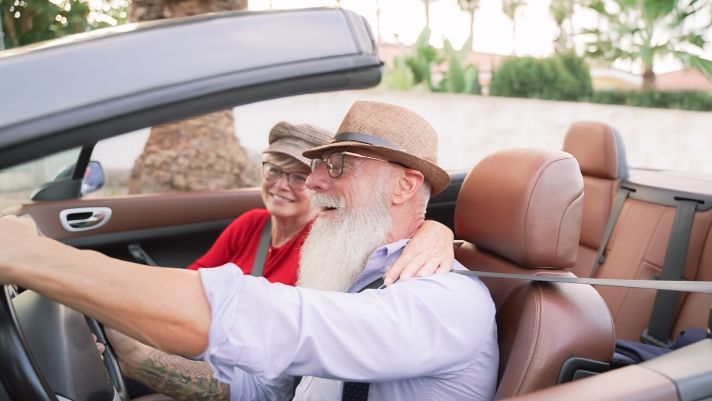 As we get older, our abilities start to change. Reaction time gets longer, and our vision and hearing start to fade. Those are the facts of life and there is no getting out of it. That doesn't mean that we can't still live life, get out of the house, and drive. When we first start driving, we are fearless. As we get older and start driving the family around, our driving adjusts. We start following the rules of the road more closely. Once we reach the twilight years, our driving habits will change again. Here are some safe driving tips for seniors so you can confidently drive and get where you need to go.
Avoid High Traffic Times
If you feel nervous or anxious at all about driving, don't venture out during rush hour. Avoid driving during peak drive hours, like during the morning or evening rush. The busiest times on the road will be when people are heading to or from work, plus any weekend traffic. Plan out your trip to avoid these times and drive with confidence.
Don't Drive at Night
If you still have perfect 20/20 vision, congratulations—you've been dealt a great hand. For the rest of us, vision starts to fade early, and it gets tough to see. Driving at night gets harder, even in middle age. The lights get bigger and start to resemble fireworks exploding in the night. The distance we can see diminishes at night, too. If you can get all your errands done during the day, then do so. Driving in the day is easier and you can see obstacles much sooner.
Stay on Familiar Roads
When possible, stick to familiar roads and routes. It's better to stay on familiar roads because you know all the curves, bends, bumps, and any blind spots. It's not always possible to drive on a road you know but do it whenever you can and stay safe.
Always Wear Your Seatbelt
Wearing a seatbelt is the law of the land in 49 states; only New Hampshire doesn't have seatbelt laws. Even if it's not enforced, it's a good idea to wear your seatbelt whenever you are in a car—whether you're driving or you're the passenger. It is the first line of defense to keep you safe in case of an accident. If you aren't already in the habit of wearing it, make it a habit sooner rather than later.
Don't Obscure the View
Our vision starts to fail as we get older. Don't make it any harder to see out the car windows by obscuring them with tinting or stickers. Keep the line of sight unobstructed so you can see everything in your path while driving. If your eyes are light-sensitive, there are sunglasses and visors to use instead of tinting. Come visit RNR for the best customer service and premium tires in Beaufort, SC. We have rims and tires for every make and model on the road. After all, to truly drive safely, your car needs to be equipped with quality parts.