‹ Tips & Guides home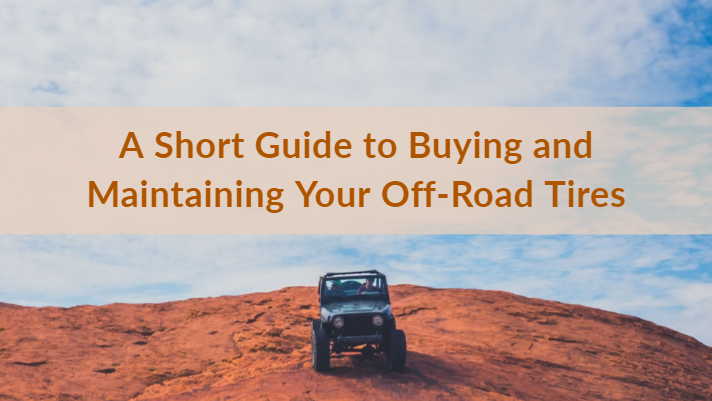 It's common knowledge that no one tire is designed with one-size-fits-all in mind, meaning that even in similar vehicle types, appropriate tires come in a variety of sizes and treads. There's also variation among the same sub-type of tire or wheel. Take for example off-road wheels or off-road tires. There are four main types to choose from, so going with a general off-brand tire might not accurately meet your needs. There are standard all-terrain tires, which have the most versatility and can handle a variety of terrains. Then there are mud-terrain tires that are designed specifically for off-road use in mud, loose soil, or rough rocks. Snow or winter tires paired with the right wheels will still grip the road or trail through layers of ice and snow. Finally, sand tires typically feature smooth sections as well as deep ribs to cut through sandy terrain. One tire type does not equal another. It's important to do your research regarding which type of off-road tire you need.
Buying Options for Quality Tires
Off-road wheels and off-road tires tend to cost a bit more than standard street tires, being that they're specialized for a specific type of driving condition. With that in mind, you might find that a quality off-road tire is out of your budget, but before you opt for a set of cheap tires, consider your options. Many tire shops allow customers to set up a payment plan to finance their tires hassle-free, often with no credit check involved. This means that they're able to invest in a set of tires and pay them off with a series of installments. This way, customers can walk out of the store with a quality set of tires and/or wheels and pay for them while they're being utilized. Think of it as a rent-to-own arrangement for off-road wheels or off-road tires. Ask about these payment options the next time you step into your local tire shop or visit an establishment online.
Extending the Lifespan of Your New Tires
If you invest in a new set of tires, you want to ensure that they last as long and perform as well as possible. Like any other part of your vehicle, routine maintenance is needed to prolong the beginning of standard wear and tear, and to prevent the occurrence of serious tire-related issues. Every time you get an oil change, which is typically every 3,000 to 6,000 miles, you should have your tires rotated. In addition to tire rotation, your tires should regularly be checked for imbalances, either static for single plane or dynamic for a dual plane. This should either be checked or performed once every 5,000 to 6,000 miles. Your tires should have their alignment examined at least once a year, or every 5,000 to 6,000 miles, and performed as needed, at least every two to three years.
The Benefits of Tire Maintenance
It's important to stay on top of your vehicle maintenance, including that of your tires and wheels. In 2017 alone, there were 738 people killed in motor vehicle accidents that were caused by issues involving their vehicle's tires. Fortunately, many vehicle hazards like this can be prevented by keeping up with standard maintenance. Proper tire and wheel care will not only extend the life and overall performance of your off-road tires, it may also improve the performance and safety of your vehicle itself by improving the rate of fuel consumption, reducing your vehicle's CO2 emissions, increasing the safety of your vehicle, and protecting the passengers therein.