‹ Tips & Guides home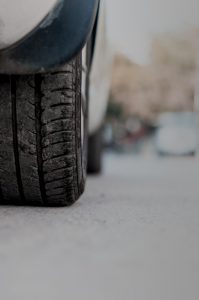 We all need to rely on our cars, and our cars won't go anywhere without a good set of tires. But how do you sort through all the choices that you find in a tire shop? It seems like choosing the right ones can be confusing. Do you need custom wheels and tires? Should you settle for cheap tires? To help you with all these decisions, here's a list of seven tire buying tips and what to look for the next time you are in a tire shop.
Get Set with a Set:

When you need to replace your tires, it's important to remember that you want to purchase a matching set. You may think it's cheaper to only purchase a couple now and then a couple later, but that puts you on the road to constantly replacing your tires. Invest in a full set, and you will be able to maintain them better.
Think About Catalog or Online Purchases:

In recent years, it has become so much easier to purchase items online. Tires are no exception. You could find a great price for a new set of tires, and you may even get a discount on installation and shipping as well.
Research Tire Codes:

Every tire has a series of numbers on the sidewall. These numbers are standardized code that helps identify the tires. This comes in very useful in the event, for instance, of a recall. Inform yourself on what the tire codes are and what they mean before you start shopping. The National Highway Traffic Safety Administration has a brochure about tire codes on the web.
Have Your Car Checked First:The shape of your tires is a good indicator of what shape your car is in. Have your mechanic look at your tires for signs that might reveal problems with your car. For instance, if your alignment is off, or your suspension isn't functioning completely, it will show in your tires. And if this is the case, fix that problem in your car before you invest in new tires.
Be Vigilant About Maintenance:

Taking care of your new tires is not going to be difficult, and it will save you a whole lot of problems down the line. Make sure they are inflated properly and rotate them frequently. Do not wait until you can see the wear and tear on them to start taking care of them because at that point the damage is already done. A little preventive maintenance will potentially save you time, money, and headaches further later on.
Don't Forget Your Spare Tire:

It's true, buying a new set of tires is a time-consuming project. When you are in a tire shop and involved in tire sales, your focus will be on the new set that you're purchasing. But try to remember to check on the spare tire that you have, also.
Consider the Rims:

Should you get custom wheels? This is something you will ask yourself when you're getting a new set of tires. It's practically impossible to resist getting custom rims and wheels. They dress up a car like nothing else! However, there is a downside to investing in these very popular custom features. Larger tires can make you use more fuel, and that will cost you more money in the long run. Also, sometimes larger tires make the ride a bit less comfortable because of the shorter size of the sidewall.
Investing in a new set of tires is a question of safety as well as finances, durability, and even appearance. And there are so many different kinds of tires! Summer tires, off-road tires, touring tires, highway tires, all-season tires—the options can be confusing. And all these different types of tires have different specifications: for instance, the number of inches of the outer diameter is the measurement that is usually used to describe off-road tires. So, make sure that you inform yourself before you even start the process of browsing in a tire shop. This will definitely help you avoid bumps in the road give you an advantage to help make your tire purchase go smoothly.