‹ Tips & Guides home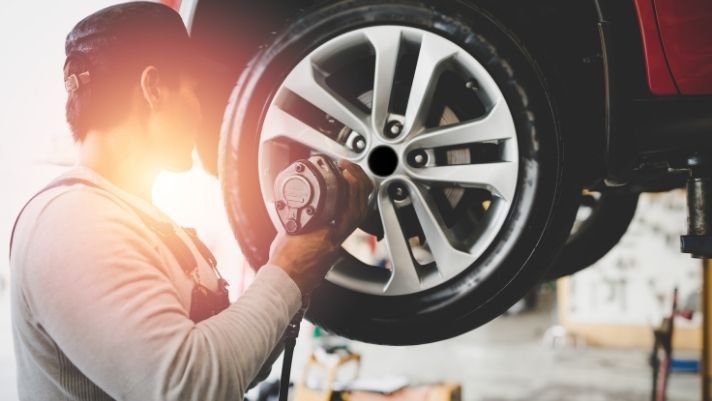 A car's braking system is one of its most crucial components because of its overall functionality and importance for road safety. But brakes work not only as a collection of separate parts, but also as a fully performing system in its own right. Your brakes may rely on other sections of your vehicle to work properly. This is how tires affect your braking system and the basics of how this equipment operates.
Understanding a Car's Braking System
As its name suggests, a vehicle braking system comprises the components responsible for bringing the car to a controlled stop while driving. It works by sending a signal from the brake pedal to the clamps around the metal wheel. When you press the pedal, these clamps close along the wheel and help grind the car to a stop. Both drum brakes and disc braking systems function in this manner and use braking fluid as a lubricant to keep the parts moving correctly.
Tires and Brake System Effectiveness
Now on to how tires affect your braking system. While tires aren't considered a part of the braking system as a whole, their overall condition can contribute to the amount of control a driver has as they try to stop. This is because tires are designed to give the vehicle traction and maintain a good grip on the road. With enough friction, the car will stop as it's supposed to when triggered by the braking system. However, this also means that, should your tires fail, so could your brakes. As the condition of your tires starts to deteriorate, they'll no longer have the same amount of traction on the pavement. This means that the wheels could continue to spin even though the brakes are trying to force them to stop. This often causes cars to start sliding on slippery surfaces. To retain your ability to safely slow down your vehicle, caring for your tires is an essential piece of the puzzle. You should get them replaced if they're no longer proving effective. If you're noticing a decrease in the effectiveness of your braking system, your tires could be to blame. This is why you shouldn't put off replacing them. At RNR Tire Express, we sell a variety of quality tires for the best price around. Our tire shops in Chattanooga, TN are also staffed with experienced tire maintenance professionals who can help you find exactly what you need.