‹ Tips & Guides home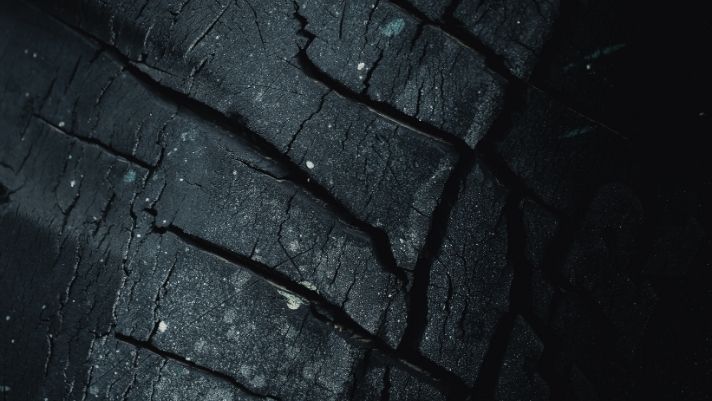 As much as we want to believe our car's tires are going to last forever, that's unfortunately far from the case. In fact, it's recommended that you get replacements every six years or so. But if you don't remember when your last tire purchase was, it can be difficult to tell whether the time has officially come. These are some of the tell-tale signs it's time to replace your tires and why they're important to make note of.
Excessive Tread Wear
First and foremost, you should always get your tires replaced if you notice any excessive tread damage or wear. Since this part of the tire is what has the most direct contact with the road, it will naturally wear down over time. Eventually, the rubber will smoothen out and your vehicle will no longer have optimal stability or traction. So, it's recommended that you try placing a penny between the tread grooves. If you can see the top of Lincoln's head, the treads are too worn to use properly.
Cracks in the Rubber
You should also consider getting new tires if your current ones are starting to develop cracks along the rest of the rubber surface. The rubber compound that tires are made from is designed to be flexible yet tough. Over time however, the material will dry out and the rubber will become hard and brittle, resulting in cracks. Cracks can appear anywhere along the tire. As such, it's important that you check the sidewalls as well as the treads when performing your inspections.
The Tire Warning Light is On
Another key sign it's time to replace your tires is if your car's tire warning light is regularly turning on. This symbol on your dashboard is meant to indicate when the pressure of your tires is too low to safely drive on. As such, it's mostly for letting you know that they need to be filled. However, if you notice that your warning light is turning on more and more frequently, it could mean that your tires are no longer holding their air pressure. When this happens, they're less effective at maintaining traction and shouldn't be driven on anymore. If you're looking to get your tires replaced in a quick and affordable manner, look no further than RNR Tire Express. Our stock of wheels and tires in Knoxville, TN contains thousands of different makes and models for you to try. Each of our tires also comes from top industry brands—ensuring that you're always getting quality products.