‹ Tips & Guides home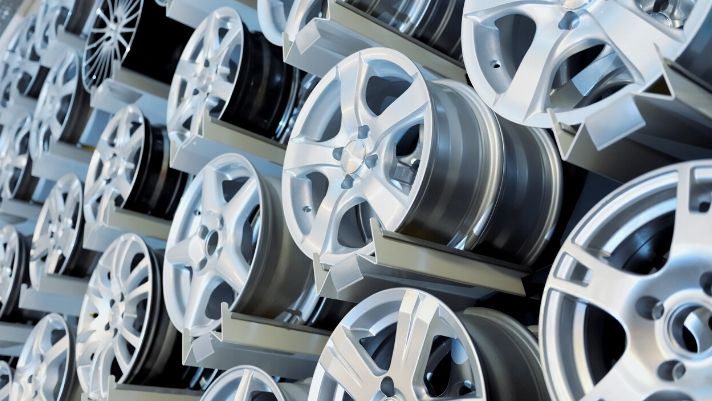 If you want your car or truck to look cool, the best thing you can do for it is put on some new wheels. The wheels are the soul of the car and one of the first things that people notice. A sweet set of wheels can make a boring car look cool in an instant. Before you plunk down your hard-earned cash on a set, find what the different types of wheels are.
Alloy Wheels
Alloy wheels are the most common on the market. They are more expensive than steel wheels, but they save money over steel ones. That's because they are lighter and will improve the fuel economy of the vehicle. They are more prone to cracking and bending, but it's a good trade-off for the increased fuel mileage. They come in far more designs and deliver style and function.
Steel Wheels
Steel wheels cost less than the other kinds. They are a great example of function over form; they are for utility, not style. They stand up to the worst weather conditions and driving styles. Steel wheels are heavy and can take a lot of abuse, but they put strain on the axle and fuel efficiency of the vehicle. Police departments use steel wheels on their cruisers because they can slam into curbs many times without breaking.
Forged and Cast Wheels
To make steel or alloy wheels, manufacturers have two options available to them: casting or forging them. Casting metal means melting the metal down to a liquid and pouring it into a mold. When the metal cools, it takes the shape of the mold. The process is quick and less expensive to produce, saving the customer money. Forged wheels are milled out of a solid block of billet aluminum. Forged wheels are significantly lighter than cast wheels and come in cooler designs. The reason is that because the wheels are designed on a CAD program, and greater detail and imagination can be applied to the design.
Split Rim Wheels
Split rim wheels are popular right now among the different types of wheels, and they are easy to spot. They usually feature a series of small bolts lining the outer part of the rim. The bolts are there to hold it all together because the split rims are made of two or three parts. There are a lot of replica split rims out there that only have the look a split rim, but the bolts are purely cosmetic and don't serve any purpose. Come in to RNR Tire Express when you're ready for those new rims and tires in Knoxville, TN. We have more styles than you can imagine.