‹ Tips & Guides home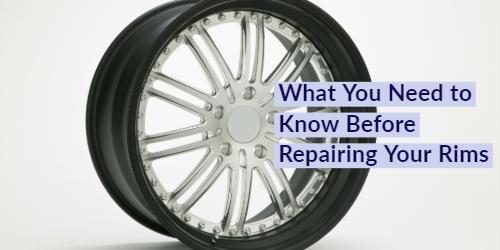 Repairing rims can be challenging. With lots of different factors at work, it is hard to know where you can go to get the quality service you need. If you are in need of rim repair but you are not sure how to take the first steps, keep reading to learn a few helpful tips.
Learn About Tires, Wheels, and Rims
First, it helps to learn a little bit about some of the most common characteristics of rims, tires, and wheels. For example, informing yourself about some of the basic sizes will help you to be a far more informed consumer when you are looking for a shop that specializes in rim repair or tire repair. In addition, you should make a point to learn about your specific vehicle. Are there manufacturer recommendations for wheels? This is the kind of information that can help you determine what you need before repairing rims.
Determine Your Vehicle's Primary Function
Because it all depends on how you're going to be using your rims and tires, it pays to know a bit about proper sizes. Say, for example, that you are planning on doing rock crawling. In this case, it is good to know that tires that measure 33 inches or larger can make rock crawling and trail riding easier by adding clearance to your vehicle. But if your vehicle is simply a means to get from point A to point B during the week, then you might not need anything that intense. When you stay on top of fundamental information, you will have an easier time of finding the right service to meet your needs.
Work with an Experienced Repair Shop
Of course, you always want to ensure that the shop you consult for repairing rims has demonstrated experience in the field. If a shop does not have positive testimonials from past customers, then it might be wise to find a shop that does. When it comes to repairing rims, you do not want to take any chances by giving your time and money to a shop that does not guarantee the absolute best quality of product and service. If you are looking for a dependable shop that can help you in repairing rims, tires, and wheels, but you are just not sure how to get started or who you can trust, then do not hesitate to get in touch with us today. We offer safe, quality tires with a variety of different payment options. What's more, our team of experienced specialists has the knowledge and expertise you need to get back on the road with function and style. No matter how large or small your needs may be, we have you covered.