‹ Tips & Guides home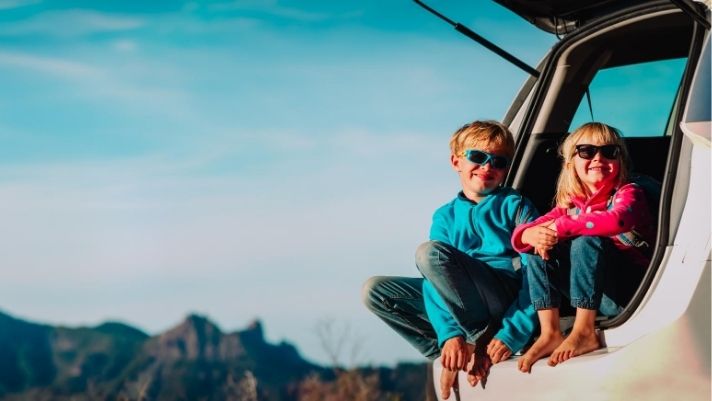 Road trips with family can be a lot of fun, but they can also be a nightmare. If not done right, the next road trip you take could be the last, especially if you have kids. Road tripping with your buddies is easy because you can all pile, in stop once or twice, and get where you're going in the least amount of time possible. Driving with the kids is an entirely different ballgame filled with tests of patience and sanity. These tips for taking your kids on a road trip were made on the backs of those that came before you and survived a family road trip.
Leave Home Early
Leaving the house early is crucial if you are driving a great distance. Doing this accomplishes two things—the kids will sleep, and you'll arrive at a decent time. Pack the car the night before and get the back seat ready to go. Load the kids last so they can continue to sleep in the car for the first few hours of your journey. Have a change of clothes handy so you can dress them at the next stop once they wake up. Time the departure so you can get to your destination before dinner.
Secure a Co-Pilot
Embarking on a solo road trip with kids is not advised. A 2:1 ratio of adults to kids is ideal for any road trip over 30 minutes. The demands from the back seat will come fast and furious. Your co-pilot can serve as the flight attendant for the trip, and their sole job will be to hand out food and drinks and explain entertainment options to the other passengers. A solo driver will be overwhelmed and risks a rotator cuff injury from reaching to pass snacks into the back seat.
Bring a Ton of Food
Food is essential. If you want to avoid stopping every hour for junk food, pack some healthy snacks and sandwiches. Bring things that are portable and easy to eat, such as granola bars, crackers, and grapes. Kids are always hungry, but being ready with snacks will keep you moving and out of the drive-through.
Pack Electronics
This is the most important tip for taking kids on a road trip, perhaps even more important than packing snacks. Whatever electronics you have in the house, be it iPads, smartphones, or a Nintendo Switch, bring them with on your road trip. Even if you loathe screens and what they do to kids, bring them along. Keeping your kids in a semi-vegetative state with technology is the only way to keep them from fighting with each other. Bring the family ride to RNR tire express before your next family trip. We are the home for wheels and tires in Columbia, SC.